Here in the land of the Bookabees it's all change for the new season, the leaves on the trees are starting to change colour; everyone has sharpened their pencils - I LOVE sharpening pencils; and we've all got our wellies out ready for the Autumn puddle jumping and stomping through leaf piles.
Soon at bedtime it will start to get darker, which means it's a brilliant time to make a glowing autumn lantern to brighten up your reading nook for cosy bedtimes. I love autumn colours - orange, yellow, red and brown, like a campfire or the falling leaves, they give a cosy glow when they're lit up that makes you feel snuggly.
To make the lantern you will need an old jar. This means you might have to WAIT until all of the jam, honey or peanut butter has been eaten and the jar has been washed, but that gives you time to think about what your lantern might look like!
You will need:
An old jar
PVA glue
Coloured tissue paper
A battery operated candle or string of battery fairy lights
Some string
First of all you need to decide what patterns or shapes you want to have on your lantern. The brilliant thing about tissue paper is that it is so thin that you can nearly see through it, so putting one coloured shape on top of another coloured shape makes cool patterns.
You could cut lots of circles and have them all overlapping, which is a word that means the edges are on top of each other. Or you could cut strips in all the colours and make a rainbow lantern. Or cut leaf shapes out of autumn coloured tissue like orange, yellow, red and brown, then make a falling leaf lantern. There are so many possibilities that I am now making my squinteenth lantern and I haven't even run out of ideas yet!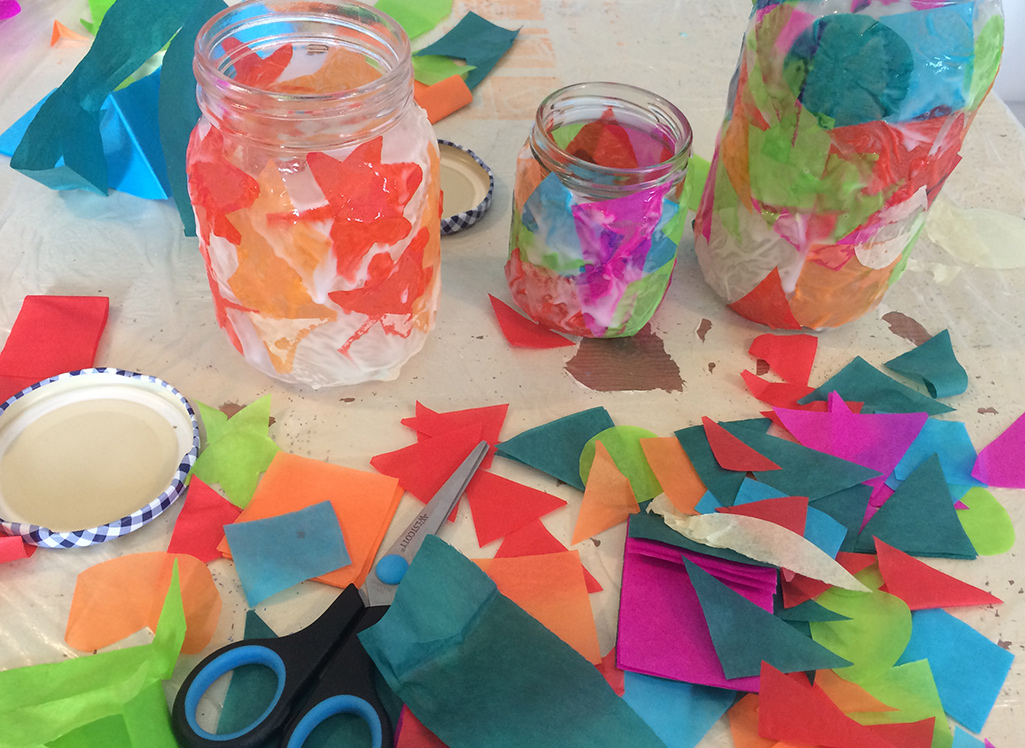 Once you've cut out all of your tissue paper shapes, paint the whole jar on the outside with glue. This is really messy and fun. Then stick your tissue paper shapes onto the glue in whatever pattern you like, just make sure that every gap and space is covered. And then... you have to WAIT for it to dry. Once it's dry and the glue has gone see through you will be able to see all of the colours and patterns your tissue has made. Tie the string around the lip of the jar and tie another piece of string to it, looping over the top, so that is has a handle. Then put your battery candle or fairy lights inside and you have your very own cosy lantern!